In a ground-floor motel room suite in Irvine, Calif., two sisters in their twenties began to make afternoon tea as their mother and brother sat on the bed of their neatly organized room.
The family of four recently arrived from Turkey, where they waited for U.S amnesty for eight years after fleeing their home within the war zones of Baghdad, Iraq.
"I was in a bomb explosion in 2008," said the younger of the sisters while displaying the scars on her left foot. "I was in the hospital for a year but will always be recovering from this."
Her brother Qahtan shared that they had lost their other brother in a similar explosion just one year before the sister was injured.
"When we left Iraq, things could be described as 'turbulent,'" Qahtan said in broken English over Google Translate. "There was bombs, shootings, and unrest where we all lived."
Cheri Chan, office manager for Voice of Refugees (VOR), listened to their story while delivering food and appliances to the family for the 501c3 organization that assists new arrivals of those granted refugee status and/or asylum by the United States government.
It was her third visit out of four Wednesday afternoon stops she will make from VOR's offices in Anaheim, Calif.
While every family's situation is unique, others registered with VOR have also experienced these common themes of escaping hostile environments and making the hard choice to flee their homelands with little time to prepare.
"Many refugees are very well educated and experienced in professions like medicine, engineering, and finance, but they need support and connections to know how to navigate the workplace in the U.S. and plug into related positions here," Chan told The Epoch Times.
"There are too many glimpses of God's work through VOR, but I think one key way is becoming a hub to connect churches and followers of Jesus all around O.C., L.A., and beyond to become aware, be equipped, and empowered to serve refugee neighbors in their midst."
Many incoming refugees carry with them the trauma of not only needing to start over from scratch, but also isolation, prejudice, and even being forgotten by their own case workers.
"There's [also] the theme of resilience and dignity—even with all the odds against them, all the families I've met are strong in their joy and hope," Chan said. "I love visiting families and playing with the children, receiving hospitality from the women, and celebrating every milestone or success they experience!"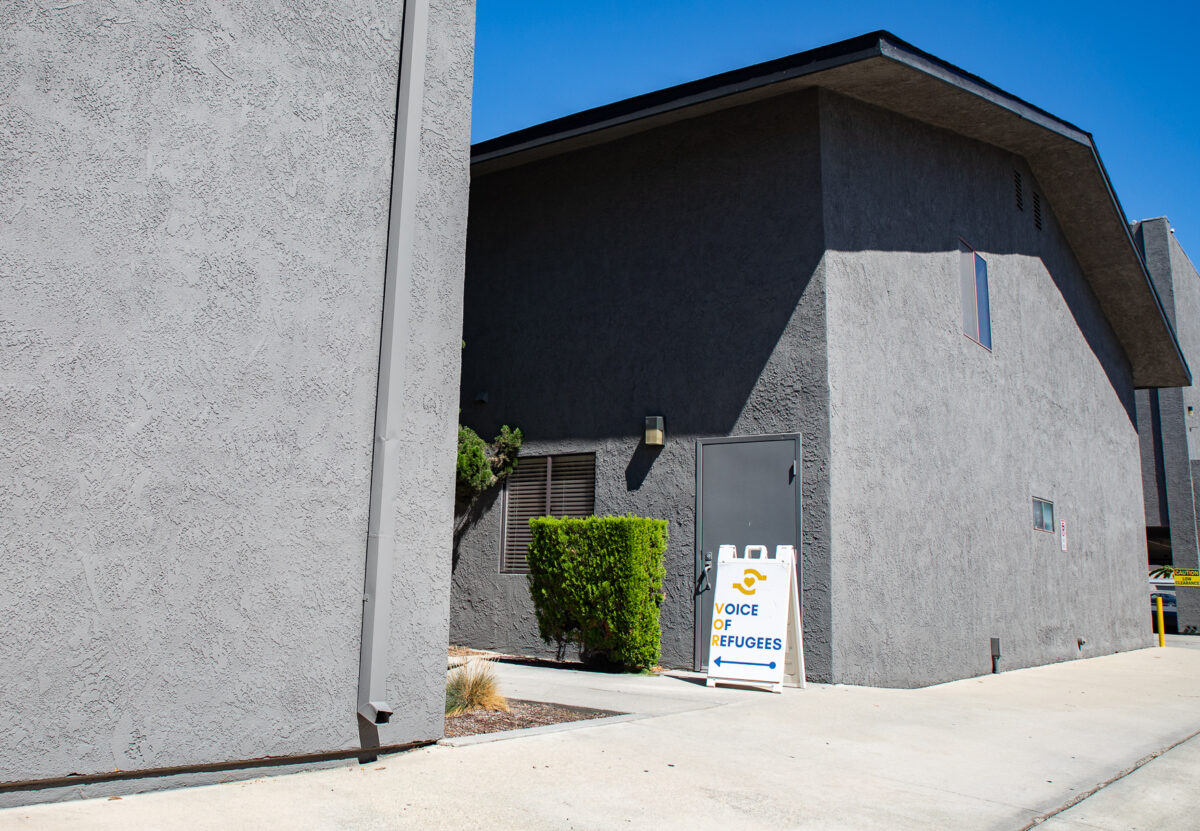 Chan, who began volunteering with VOR in 2017, enjoys the relational focus of the VOR community and its spirit-led ministry.
Operating throughout Orange County, the organization is specifically positioned to assist refugees and asylum-seekers from the Middle East, North Africa, as well as Iran and Afghanistan, with no distinctions made regarding religion or background. "All need loving assistance," according to the VOR website.
"There is no typical day at VOR. I can honestly say that, because every season [and world events] are unpredictable, along with every diaspora and global movements," Chan said.
"VOR is small enough to be very versatile in responding to these needs, and we serve a big God, and we experience His abundance every day!"
Back at VOR headquarters located in the back of a light blue church building, several Middle Eastern families were taking English classes in classrooms divided by skill levels from beginning to advanced, while VOR Executive Director Chris Khoury, 34, was teaching Arabic-to-English classes, via Zoom.
"Hello sir, how are you? Can you unmute yourself and tell me what class you are supposed to be in? Khoury said slowly and clearly while looking at his MacBook screen.
"Ah, you are level two! You are a bit late but I'll take you to the level two class; just push the blue button on the screen," he said.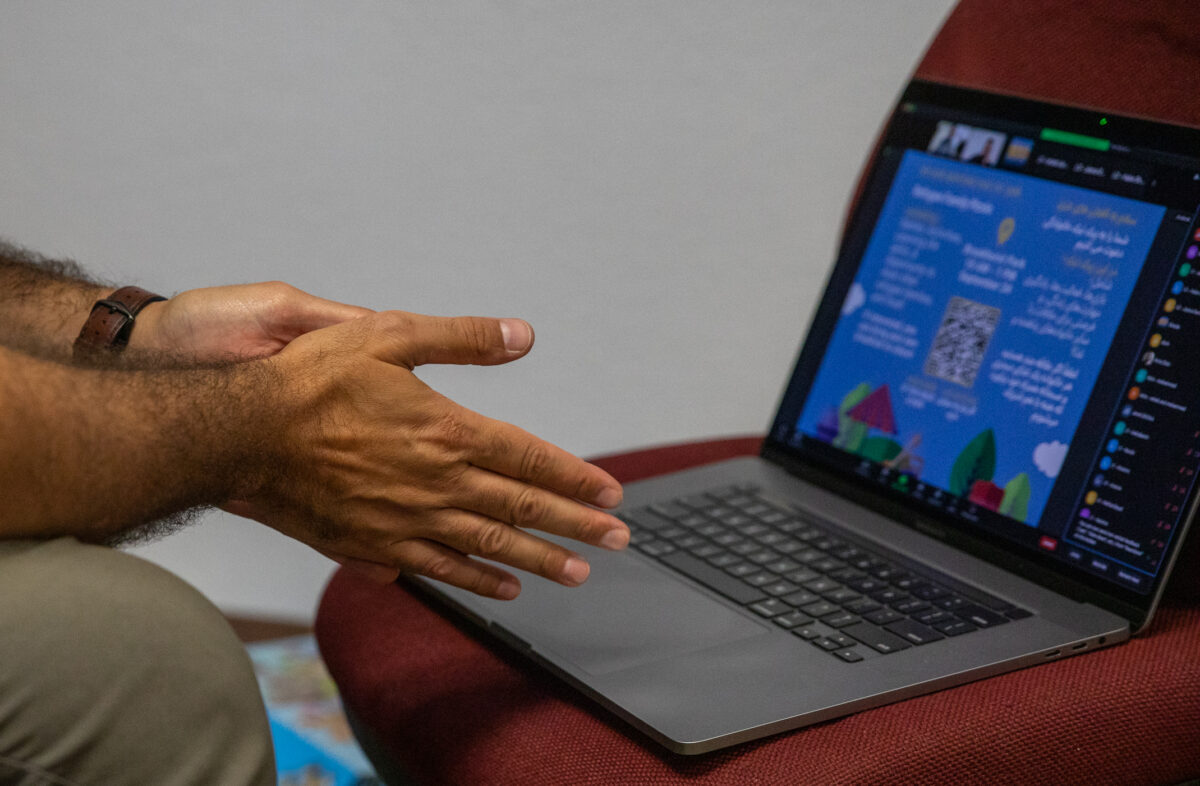 Khoury, who has on-the-ground experience working with refugees in the Middle East, is himself a refugee from the nation of Lebanon whose mother was Lebanese and father, Palestinian.
While growing up there as a Palestinian Christian, Khoury recalls being excluded from jobs and even sporting events because of his Christian faith.
"Armed militias and war displacement camps where even the government cannot even have control over, on top of the persecution challenges were the situation there," Khoury told The Epoch Times.
"Having the purpose of having a relationship with God and knowing that we are to be with Him, eventually with Him, actually gave me my perspective of the concept of refugee here on Earth, to which everybody is a refugee coming here for a journey—to which you just never know when you're going to die," he said.
"And after that, I started serving in nonprofits."
After being granted a U.S. Visa after 30 years in Lebanon, Khoury found himself praying to God for important decisions he had ahead for himself and his then-fiancee.
"I was like, 'God, open or close any door, I'm going apply for asylum here in the United States since they gave me a visa, but I want what your will is,'" he said. "We fasted and prayed to make the right decision [and] we eventually applied for asylum, which brought us to the United States."
Khoury and his wife were married in the backyard of his pastor's home, and he credits God with what happened next in his life after the couple was helped by VOR in their local resettlement.
"I was praying and praying when the chairman of the VOR board reached out to me with the opportunity as executive director, which I of course accepted," he said.
Khoury's experience both as a refugee and working with humanitarian organizations in the Middle East shaped him for the role that he holds today with VOR, leading the small staff of eight that serves over 1200 refugees.
"We're all refugees, and our mission and God's mission for us here [is] to be with Him for eternity, and to give that hope for people and to really bless them," he said.
Already working past their daily deadlines, Khoury called together his onsite team for a meeting debrief, passing around trail mix bags while multitasking the direction of an upcoming VOR event along with encouraging his colleagues.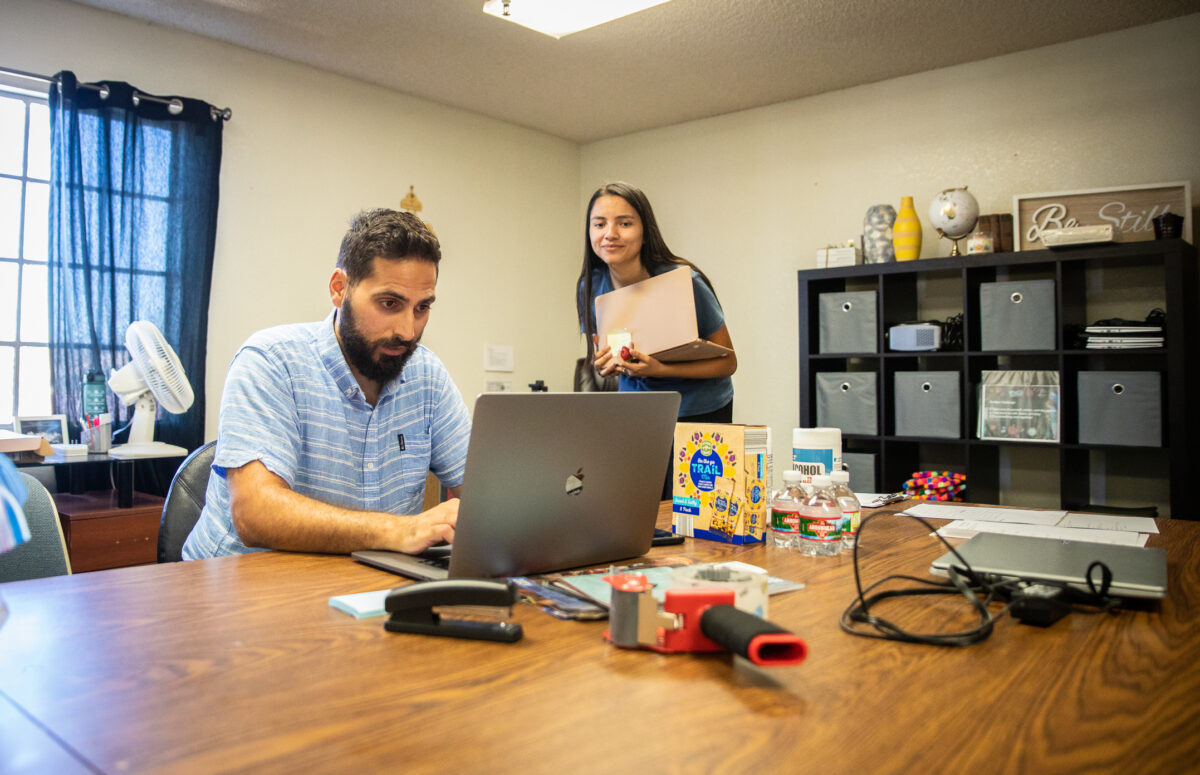 Serving Through the Challenges
Aside from ESL classes both onsite and online, VOR undergoes weekly food distributions, furniture delivery, driving training, citizenship information classes, and career coaching to help refugees become independent as they make their transition into the United States.
"There might be moments where we're biting off way more than we can chew, but everything we do here is in dependence of a God who is limitless," VOR staff member Anna Diaz, 25, told The Epoch Times.
"We're just small organization but every time we get one more family at VOR we [discuss] how to meet their needs. It happens with networking and a lot of times with other churches and volunteers, one family at a time."
As a recent Biola University graduate, Diaz started at VOR as a volunteer in early 2021 and now works on staff with the organization where she multitasks her time from teaching English lessons to processing refugee families into the programs they offer.
"Every day is different every day is different here with no two days ever the same," Diaz said while monitoring an ESL class over Zoom.
"One thing led to another, and I found myself here and didn't want to leave," she added.
As two women in tan and black hijabs prepared to exit the next room over after finishing up a digital driving lesson over a driving simulator, one woman smiled translating the Arabic her friend had spoken.
"She did okay and went slow this time," she said with a smirk. "A few more times on the machine and she will be ready."
With the organization serving over 400 families, the team makes a genuine effort to complete VOR's mission of putting God's love into action by assisting refugees as they establish their lives in the United States.
"It's a lot of teamwork, you know? We can't solve anything on our own," Diaz said. "We have to be dependent on each other, and ultimately we depend on God to provide for us in the work we do."